DCFM profile: Knapp's Fresh Vegies
Submitted by Kristian on Sat, 2005-05-28 19:04.
Food | Source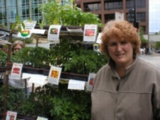 "A family vegie farm specializing in hot chile peppers," Knapp's Fresh Vegies is this week's featured vendor from the Dane County Farmers' Market. The farm specializes in plants and seeds for tomatoes, peppers, sunflowers, and squash, as well as a "nightmare" hot sauce, with about two-fifths of its peppers coming from the habanero family.
The farm is operated by Carol and Ray Knapp, and is located about an hour east of Dane County in West Bend. Their booth is located on North Pinckney, near its intersection with East Mifflin and North Hancock, or as described by Carol Knapp, "right across the street from the Y."
Knapp's Fresh Vegies has been growing vegetables since 1976, selling at the Market since the summer of 1988. This will be their eighteenth year on the Square, after they moved to a new farm in the wake of the major drought in '88. They also sell their products at a Wednesday market in Milwaukee, and at another Saturday market in West Bend.
The products at Knapp's Fresh Vegies have included Siesta Chiles Nightmare Pepper Sauce, jams (hot and sweet!), and seeds for a great variety of peppers, tomatoes, sunflowers, squash. The farm also sells pepper plants, tomato plants, and other house plants.
Today's selection at the market included the hot sauce, as well as a tremendous selection of tomato plants. According to the Knapp's Fresh Vegies listing of its tomato plants available at the market and on their website, there is extensive variety. They (at varying times) grow 29 varieties of small-fruited tomatoes, 27 kinds of non-red tomatoes, six dwarf tomato types, twelve "roma or paste" types of tomato, and 32 regular varieties of the fruit.
There are no pepper plants from Knapp's this year, due to their focus on maintenance at the farm. According to Carol Knapp, "this summer we're working on maintenance,' though they will be selling sunflowers and their hot sauce in the heights of summer. She also said the farm "usually has the biggest winter selection on the Square," selling anywhere between 50 and 80 bushels of the squash per weekend, where it's sold by the bag.
The spring has been a little cool, said Knapp, so there has been less self-planting by home gardeners (and smaller foot traffic on Saturdays) this year. Their plants have grown well however, and are about the size they should be for the time of year, she explained. They are already into their second planting (having sold out their first one), and expect to have the tomato plants next week, and perhaps for one more after that. A few photos of their tomato plants are posted at bottom.
The most popular item from Knapp's is their Nightmare Pepper Sauce, with five-dozen jars selling at the market today. According to Carol Knapp, about one hundred dozen jars of hot sauce are typically sold every year at the market, as "the people just go nuts for it."
According to a description of their 2004 batch of hot sauce on Knapp's website, "Each batch uses at least 25 varieties, and one had over 120. Each batch is a bit different depending upon the chiles available at the time. They all have a mix of at least 5 species of peppers from serrano, Thai, cayenne, tepin, tabasco, criolla sella (a Bacatum) and of course Habanero. Some even have Rocoto, the black seeded pepper. This current batch # 20 has over 90 varieties." Carol Knapp said that because most peppers only hit a single part of the tongue, though different peppers target different areas, their use of this blend "gets you everywhere."
As she described it, "there is a bit of sweetness to the sauce because the peppers are ripe," as opposed to most hot sauces, which typically rely only on pepper oils. This gives the fresh hot sauce "a nice flavor" that's "like Tabasco with an attitude." Though "it's not like we try to compete with something like Dave's Insanity," said Knapp, the Nightmare is "about as hot as you can get from a blend of peppers."
Carol Knapp said that while the Dane County Farmers' Market has grown, this has been accompanied by the simultaneous rise of other markets in the Madison area (such as the Hilldale or Eastside versions), which limits Saturday "feeding frenzies" to once or twice per year. She also "really likes this market," as it is the only one that does a very good job of enforcing their rule against vending by wholesalers, who typically bring in bland fruits and vegetables a couple weeks ahead of season from California.
Knapp's Fresh Vegies is also a part of Seed Savers Exchange, which "is a nonprofit organization that saves and shares the heirloom seeds of our garden heritage, forming a living legacy that can be passed down through generations." Seed Savers Exchange is based near a farm in Decorah, Iowa, and used to run a retail outlet on Monroe Street here in Madison.
More information about Knapp's Fresh Vegies can be found in its DCFM listing, as well as from the Knapp's Fresh Vegies eBay Store, which focuses on selling the hot sauce and pepper seeds.
Skipping last week, Dane101 profiled Mother King's, a maple syrup producer, on May 14. Check back here next week for a look at another vendor from the Dane County Farmers' Market.



Knapp's tomato plants: