Some of the tomato seedlings I started this spring. They were germinated on the floor under the kitchen table in the house. I usually have a smaller easy to heat greenhouse I use for germinating, but the roof was torn off in a storm last year. After they germinated, I moved them to the big greenhouse where they are here sitting on top of a large tank of heated water. The frames are so I can cover them at night to keep them a bit warmer as a greenhouse is a heat sieve. They are made out of 1/2 inch PVC pipe and are somewhat adjustable as they are just pushed into the fittings, not glued.
Closer view below. Each pack has from 50 - 200+ seedlings. I usually only need 50-75 for most varieties, but sometimes it's hard to judge how few seeds that is when seeding. I do have a couple of popular varieties that I will sell 200-300 plants each year tho.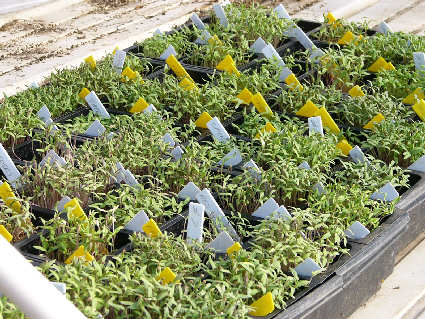 Each pack of an 18/flat is a different seed. I started about 200 packs this year.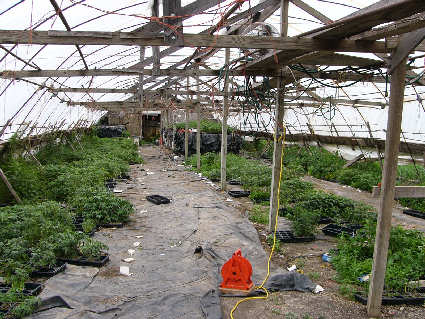 This is the tomato greenhouse around June 15 after about 1/2 of the plants have already been sold. There were almost 400 flats of 24 plants/flat before I started selling. Way in the back center is the tank from the earlier pics. There are still a lot of unused seedlings on the now unheated tank. This greenhouse is barely standing and is going to be rebuilt later this summer. The greenhouse is homemade and not automated at all. It will sometimes get too hot on sunny days and cooler than what commercial greenhouses try to keep tomatoes at nite. But the somewhat stressful conditions seems to produce strong hardy plants that really take off as soon as they are transplanted. I have many regular customers that buy their tomato plants from me every year and always say these are the best plants they have ever gotten and produce great crops of tomatoes.
As we got busy with the squash harvest in the fall of 05, we never had the time to get to the repairs on this greenhouse. In November, we had several days of strong winds that were at a right angle to the greenhouse. The winds did a real job on the greenhouse. They snapped 3 of the 4x4 center posts and that greenhouse is now a disaster and will need to be totally re-built when we have a chance.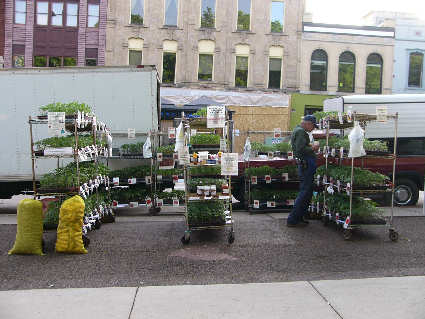 This is a pic of our sales stand at the farmers market in Madison Wi. This was taken May 21, 05. There are 106 different varieties of tomatoes there.
June 19, 05 my hubby and I finished planting about 1200 tomatoes. They will be mostly for seed saving this year. Most years we plant out over 5000 for pick-your-own and farm market sales.
For info on 06 growing in a simple way,
check here.